Need help?

If you can't find what you're looking for, please contact our sales team
Choral Works Has Arrived
07. oktober 2019
We are excited to announce the availability of the fourth volume of the Béla Bartók Complete Critical Edition: Choral Works.
This volume contains every completed work Bartók composed for unaccompanied chorus or chorus with piano accompaniment, except for the exercises from his student years.
In the main part of the volume, the last authentic versions of the works published in the composer's lifetime are present as well as those that remained unpublished but were intended for the public. In addition to the original words of the compositions, the edition includes all the translations approved by Bartók.
For more information on this publication, please click here.
Piano Works 1914–1920 has been published!
02. april 2019
Volume 3 of the BBCCE contains Bartók's works for piano solo composed between 1914 and 1920. These works span a broadly varied spectrum; in addition to simple arrangements of folk music (15 Hungarian Peasant Songs, Sonatina) and original pieces for the concert podium (Suite, op. 14), we find Bartók's audaciously innovative Etudes (op. 18) inspired by Liszt, as well as Improvisations (op. 20), perhaps his most abstract and original folk music adaptations.
Please click here for more information on this most recent volume.
Concerto for orchestra is available
08. februar 2018
The second volume of the Bartók Complete Critical Edition was published in February 2018. You can find more information about this exciting new publication
here
.
First volume of the Béla Bartók Complete Critical Edition is available
27. januar 2017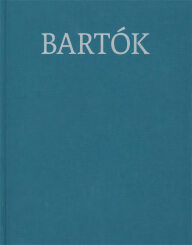 In 2016 we started publishing the Complete Critical Edition of the works of one of the 20th century's greatest composers: Béla Bartók.
The influence of his pioneering oeuvre, including works such as 'Duke Bluebeard's Castle', 'Mikrosmos', the 'Concerto for Orchestra', and 'For Children', has actually increased during the 70 years since the composer's death in 1945.
The need for a scholarly edition that meets the highest requirements is beyond dispute. This major scholarly project, whose preparations have been a long time in the making, is to be jointly issued by G. Henle Publishers in Munich and Editio Musica Budapest. Both publishing houses have an excellent reputation for scholarly editions, together with the highest possible standards when it comes to international distribution.
You can download the subscription invitation here. Subscribers to the complete set of volumes in this Complete Edition will receive a 10 % discount on the standard purchase price. The volumes can also be purchased individually.
The first volume (For Children) is available for sale. The BBCCE is distributed worldwide by G. Henle, except of Hungary.
Bartók Complete Edition will be launched in 2016
27. september 2015
The 70th anniversary of the death of Béla Bartók was marked in Budapest on 26 September 2015, with a full day of events at the Institute of Musicology, Research Centre for the Humanities, Hungarian Academy of Sciences. On the occasion the launch of the score series Béla Bartók Complete Critical Edition was announced which will be published jointly by Editio Musica Budapest and G. Henle Verlag of Munich.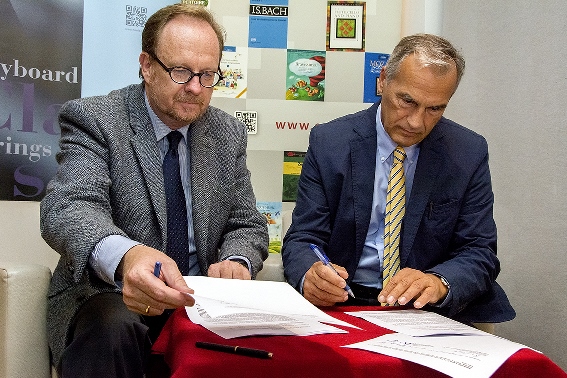 A contract of cooperation between them had been signed the previous day.
After opening words by Pál Richter, director of the Institute of Musicology, addresses were given by László Lovász, president of the Hungarian Academy of Sciences, and Emilia Szedlacsek, head of department of the Ministry of Human Capacities. At the morning session, lectures were heard from Gábor Kecskeméti on literary complete editions and László Somfai on musical ones. Then followed a press launch by László Vikárius, head of the Bartók Archives and editor-in-chief of the complete edition, Malcolm Gillies and Tallián Tibor as members of its editorial board, and Antal Boronkay and Wolf-Dieter Seiffert, chief executives of the two publishing companies.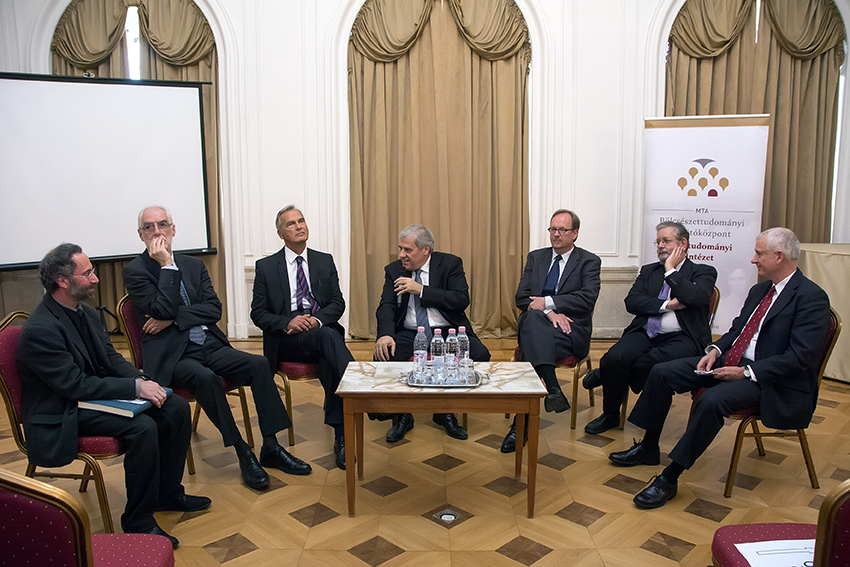 In the afternoon, a festive commemorative was held with wreaths laid on the grave of Béla Bartók. The afternoon session, held in English, featured Richard Taruskin (University of California at Berkeley), who spoke on critical editions of 20th-century composers, Vera Lampert (Brandeis University) on the position held by For Children among Bartók's folk song arrangements, László Vikárius on editing For Children, and Klára Móricz (Amherst College) on the editing and history of Concerto for Orchestra. The day's events concluded with performances of the First Sonata for Violin and Piano, Contrasts, and selections from 44 Duos for Two Violins.
An exceptional concert took place on Sunday morning in the Great Hall of the Liszt Academy of Music, at which young Hungarians and Slovaks played pieces from the For Children cycle. Also heard were some of the Hungarian and Slovak folk songs which Bartók had arranged in these piano pieces. A children's choir sang three of Bartók's Children's Choruses, and a string orchestra consisting of pupils from Budapest music schools played Leó Weiner's transcription of the For Children pieces. Finally, a children's choir and the orchestra performed five of Bartók's choral works with orchestral accompaniment [B-28].
Our publishing company is proud that for 65 years it has been looking after and distributing much of Bartók's work at home and abroad. Most of Bartók's music will be out of copyright in most European countries in 2016. This means that other publishers are likely to publish works by Bartók, and there is danger that some of the publications will be based on unreliable, obsolete scores. So it is all the more opportune to be making available at last a complete edition to a scholarly standard. Such publication of a musical life's work also gives performers access to much awaited, hitherto unpublished juvenilia, along with unknown versions and unpublished movements. A complete edition of a composer makes available the whole life's work edited on uniform principles. It provides a musical text that takes note of all sources and creditable editions, along with a historical introduction and detailed critical commentaries.
Preparations for the Bartók Complete Edition, which is planned to consist of 48 volumes, began under László Somfai and are continuing under László Vikárius at the Bartók Archives, which operates as part of the Institute of Musicology. The Archives – set up in 1961 to safeguard the Bartók legacy in Hungary – form the only specialized collection and research centre devoted exclusively to Bartók's life and works. Editio Musica Budapest will publish the series jointly with G. Henle Verlag of Munich, which has an outstanding reputation in the field of critical editions. This partnership provides ideal conditions for ensuring that the Complete Edition is published to the highest standard and distributed internationally. Due to the high production costs and weight of scholarly, editorial and engraving expertise required, we expect to produce two volumes a year. Our plans are to publish the early and revised versions of For Children in the spring of 2016 and the Concerto for Orchestra in the autumn.
The Complete Edition, with its scholarly handbook function, will be joined by cheaper so-called Urtext editions in a more easily handled sheet-music form of the works already published in the series. Thus it is our hope that the Bartók Complete Edition will become the central publication of the composer's life's work all over the world.
The publication of the Bartók Complete Edition and the holding of the two days of events have received funding from the National Cultural Fund of Hungary.